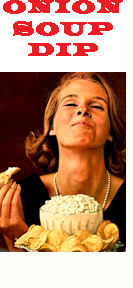 MAKES: 2 cups of dip READY IN: 1 hour

1 envelope Lipton Onion Soup mix
16 oz. sour cream

Combine soup mix and sour cream, mix well, and refrigerate for 1-4 hours. (If truly intent on staving off a coronary, substitute 1 cup of fat-free Greek yogurt for half of the sour cream).