LISTEN. IS THAT BONGO MUSIC? Perhaps a little Montovani? And did your mom just tie a sheer hostess apron around the waist of her little black dress? Most of us were told to wriggle into our Doctor Dentons and am-scray when a cocktail party was in the offing, but even the strictest mom relented when it came to a kid-nibble at the hors d'oeuvres spread. And who can forget the fancy-hot-dog goodness of cocktail pigs-in-a-blanket, the flaky crunch of twisted cheese straws, or the pickle-laced creaminess of deviled eggs? Crab-stuffed mushrooms, spiced pecans, and rumaki pierced with frilly-topped toothpicks were the height of exotica. Almond-stuffed dates were doll-sized desserts, and Lipton Onion Soup dip and Chex Party Mix were get-together staples. Yes, yes, we should all be concerned about calories and cholesterol, but treating yourself and your guests to one or two of these classic appetizers doesn't mean that you'll have to book a by-pass tomorrow. So ask your mom if she still has that deviled egg platter, and maybe she'll loan you that fancy apron...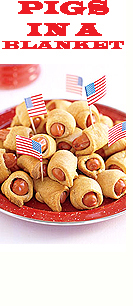 MAKES: 8 servings READY IN: 25 minutes

1 (8 oz.) can Pillsbury Refrigerated Crescent Dinner Rolls
24 fully cooked cocktail wieners or sausages


Preheat oven to 375 degrees

Grease a cookie sheet. Open package of crescent rolls and unroll dough. Separate into 8 triangles. Cut each triangle into 3 smaller triangles. Place a wiener atop shortest side of triangle and roll up to opposite point of dough. Repeat until all wieners are wrapped in dough. Place all, point side down, on prepared cookie sheet. Bake for 11-15 minutes or until golden brown. Remove immediately from cookie sheet. Serve with ketchup, cocktail sauce, or honey mustard sauce made by mixing equal parts of Dijon mustard and honey.



Click here for printable version of this recipe

MAKES: 24 servings READY IN: 15-20 minutes

24 large mushroom caps, cleaned
1/3 cup butter, melted
6 oz. package frozen snow crabmeat, thawed
3 tablespoons mayonnaise
2 tablespoons minced green onions
1 tablespoon prepared horseradish
1/4 cup dried breadcrumbs
1/4 cup grated Parmesan or Romano cheese

Preheat oven to 375 degrees

Adjust rack to upper third of oven. Brush mushroom caps with melted butter. Place caps on ungreased baking sheet. Drain crab, discard liquid, and set crab aside. In a medium bowl combine mayo and horseradish and stir. Add breadcrumbs, cheese, onion, and parsley, and mix well. Add crabmeat and toss with fork. Stuff each mushroom with 1 level teaspoon of mixture. Bake 5 minutes or until warm, then broil about 4 inches from heat for 1 minute or until golden brown. Serve immediately.

MAKES: 30 straws READY IN: 30 minutes

1 (17 1/2 oz.) package of frozen puff pastry, defrosted overnight in fridge
3/4 cup grated Parmesan cheese
1 tablespoon paprika
1 egg, lightly beaten

Preheat oven to 425 degrees

Line 2 cookie sheets with parchment paper. Combine cheese and paprika. Mix well. Working on a floured surface, use a lightly floured, cloth-covered rolling pin to roll one sheet of puff pastry dough into a 12" x 10" rectangle. Brush with egg and sprinkle with 3 tablespoons of cheese mixture. Gently press cheese into dough, turn pastry over, and repeat egg and cheese applications. Fold pastry in half lengthwise and cut into 1/2-inch wide strips. Unfold strips. Roll strip ends in opposite directions to twist. Place twists on cookie sheet and bake 7-8 minutes until puffed and golden. Repeat for second batch.

MAKES: 24 servings READY IN: 40 minutes

12 eggs
4 tablespoons mayonnaise
2 teaspoons yellow mustard
3 teaspoons sweet pickle relish
salt & pepper to taste
paprika for dusting tops of finished eggs

Place single layer of eggs in bottom of large saucepan and cover with cold water. Bring to a boil for 12 minutes. Remove eggs from pan and refrigerate until completely chilled. Peel eggs and slice in half lengthwise. Combine cooked egg yolks, mayo, mustard, relish, and salt and pepper in a bowl and mix well with a fork until creamy. Fill halved egg whites with yolk mixture, dust tops with paprika, and keep cold until ready to serve. NOTE: Eggs that are a few days old are easier to peel after boiling than very fresh eggs.
Click here for printable version of this recipe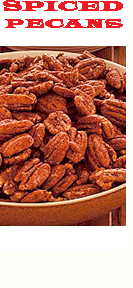 MAKES: 4 cups of pecans READY IN:30-35 minutes

1/4 cup (1/2 stick) butter
1 teaspoon ground cumin
1/4 teaspoon ground cayenne pepper
1/4 teaspoon Tabasco sauce
1 teaspoon Worcestershire sauce
1 tablespoon sugar
1/2 teaspoon salt
4 cups pecan halves

Preheat oven to 325 degrees

Melt butter in medium saucepan. Add other ingredients and mix to coat nuts well. Spread in single layer on jelly roll pan or cookie sheet. Bake 20-30 minutes, stirring occasionally. When cool, store in airtight container until ready to serve.

Click here for printable version of this recipe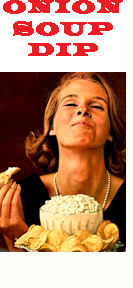 MAKES: 2 cups of dip READY IN: 1 hour

1 envelope Lipton Onion Soup mix
16 oz. sour cream

Combine soup mix and sour cream, mix well, and refrigerate for 1-4 hours. (If truly intent on staving off a coronary, substitute 1 cup of fat-free Greek yogurt for half of the sour cream).
Click here for printable version of this recipe

MAKES: 24 servings READY IN: 1 hour

6 chicken livers, quartered
12 slices bacon, halved crosswise
12 water chestnuts, halved

FOR MARINADE:
1/4 cup soy sauce
2 tablespoons dry sherry (optional)
1 teaspoon fresh ginger minced (or 1/2 teaspoon ground ginger)
2 teaspoons light brown sugar
1/2 clove garlic, crushed

Combine marinade ingredients in small bowl and whisk until sugar is dissolved. Add chicken livers and water chestnuts, stir well, cover, and refrigerate for at least 1/2 hour. Place 1 piece of chicken liver and 1 piece of water chestnut in center of each bacon strip half. Wrap bacon around livers and water chestnuts and secure each rumaki with a toothpick. Place on broiler pan or shallow baking pan about 5-6 inches from heat. Broil until bacon is crisp, about 10-15 minutes. Serve hot. NOTE: Rumaki can also be baked for 20-25 minutes in a 375 degree oven.
Click here for printable version of this recipe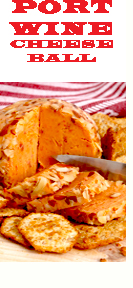 MAKES: 1 cheese ball READY IN: 1 hour, 15 minutes

2 (8 oz.) packages cream cheese, softened to room temperature
4 tablespoons Wispride or any other spreadable port wine cheese
3 teaspoons parsley, chopped
black pepper and garlic powder to taste
toasted chopped walnuts or pecans, or toasted sliced almonds for covering finished ball

Cream port wine cheese and cream cheese together well. Add pepper, garlic powder, and parsley and remix until spices and parsley are evenly distributed throughout cheese mixture. Shape into a ball, roll in chopped or slivered nuts, and refrigerate for at least 1 hour.
Click here for printable version of this recipe

MAKES: 24 servings READY IN: 1 1/2 hours

3 cups Corn Chex cereal
3 cups Rice Chex cereal
3 cups Wheat Chex cereal
1 cup mixed nuts
1 cup bite-size pretzels
6 tablespoons butter or margarine
2 tablespoons Worcestershire sauce
1 1/2 teaspoons seasoned salt
3/4 teaspoon garlic powder
1/2 teaspoon onion powder

Preheat oven to 250 degrees

Mix cereals, nuts, and pretzels in large bowl. Set aside. Melt butter in oven in large, ungreased roasting pan. Stir seasonings into butter. Gradually add cereal mix, stirring, until evenly coated with butter mixture. Bake 1 hour, stirring every 15 minutes. Spread on paper towels to cool, about 15 minutes. Store in airtight container until ready to serve.
Click here for printable version of this recipe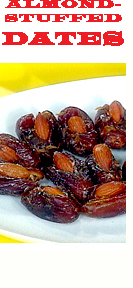 MAKES: 20 dates READY IN: 10 minutes


20 whole pitted dates
20 whole roasted smoked almonds

With a knife, make a slit in the top of each date. Slip an almond into slit so nut is exposed, but securely nestled in date. Arrange on plate and serve.