LET'S FACE IT. Short of tucking a Dorian-Gray-esque picture in the attic or copping a condo in the elusive realm of Shangri La, wrinkles are our destiny. Over-the-counter potions line the shelves of every drugstore this side of Azerbaijan and though some show modest results at reducing the
appearance
of wrinkles, (visit
the Mayo Clinic
for their take on wrinkle creams), the best defense in the battle against telltale lines are the simple preventative steps that follow. Even if you've already got a crease or two, these basics will help halt the onslaught, and don't stop there. Avail yourself of the crinkle-conquering makeup tips below too. It's time to wrestle wrinkles to the ground— or at least let them know that they're in for a fight.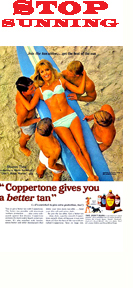 Remember parking yourself on a deck chair in the backyard with a cardboard reflector tucked under your chin? Or slapping on the poor girl's Bain de Soliel made by mixing baby oil with iodine? Our generation worshipped the sun, and for many of us it's been a hard habit to break. The temptation to toast may be strong, but so are the damaging rays of the sun. If you must go George Hamilton, at least avoid exposure between the peak sun potency hours of 10 a.m. and 3 p.m.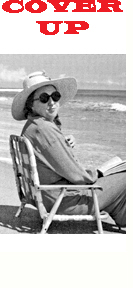 If you know you're going to be outdoors for a chunk of time, grab a wide-brimmed hat, (Coolibar.com has a great-looking sun-stopper), suitably protective clothing, and sunglasses. Not only will a good pair of stylish shades, (like the affordable polarized Black Flys from Overstock.com), shield your peepers from dangerous UV-A and UV-B rays, but they'll reduce the need for crow's-feet-causing squints.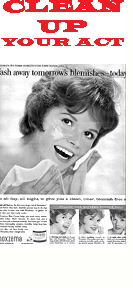 Although the photo at left might make you think otherwise, the best cleanser for most skin types is good old warm water. Sure, you can spend a fortune on soaps and cleansers, most of which simply remove healthy, skin-balancing oils from your face. But a morning and evening routine that rinses the schmutz from your visage is all you really need. If you feel, however, that you simply must suds up, choose a mild, unscented soap, and don't go overboard with the scrubbing action either. Exfoliating with a gentle oatmeal preparation every couple weeks will do. Removing too many outer skin cells by over-cleansing makes you vulnerable to dryness, irritation, and infection. Of course if you suffer from specific dermatological problems your doctor will let you know what's best for your condition.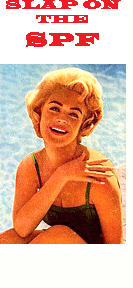 Using a daily moisturizer with a sun protection factor (SPF) of at least 15 is important at any age, (go to ConsumerSearch.com for their top five, expert-endorsed picks). But guarding Boomer skin from harmful UV rays, even when you think you don't have to, is just good sense. If you're unsure about how much sun is headed your way on any given day, check out the UV index posted daily by the EPA, and remember that high altitude locations and places closer to the equator are high sun-risk territory.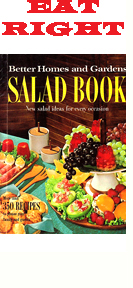 You've heard this so many times you're probably ready to pop us in the puss for saying it yet again, but eating healthily makes a difference. It's a well-established fact that consuming a balanced diet that includes foods rich in antioxidants- think berries, oatmeal, pecans, or take a look at the Cleveland Clinic's list of healthy and antioxidant-rich foods- makes us look and feel better. And our skin needs as much help as we can give it. So remember, snacking on a handful of blueberries or a red Delicious apple can probably do more for your skin than a fancy facial or expensive Swiss elixir. Talk about bargain beauty treatments...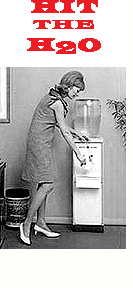 You may think this is a no-brainer, but can you honestly say that you drink 6-8 glasses of water- not soda, not coffee, not juice, not tea- every day? All liquids are not equal and the aforementioned beverages can't do for our bodies what plain old water does. It removes harmful toxins, aids digestion and circulation, and carries much-needed nutrients hither and yon. And our skin, which happens to be the largest organ in human bod, benefits from being well-hydrated as much as our brains, hearts, and kidneys. So drink up, but make that order "agua, por favor".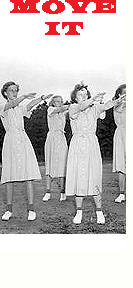 You know you should be doing it, so we won't belabor the point. But remember that even minimal exercise- say 15 minutes of brisk walking 3 times a week- can have surprising health benefits. And that includes keeping your skin in good shape. So there!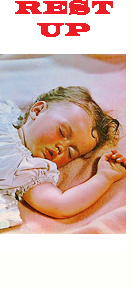 Sleeping like a baby may be a thing of the past, but getting a good 8 hours of sleep per night gives the skin time to regenerate itself and repair damage caused by daily exposure to UV light. Catching enough Zs also bolsters memory and alertness, prevents depression, reduces the production of stress hormones that inhibit blood flow to the skin and other organs, and may even help you stay slim. (Folks who get less than 7-8 hours of sleep per night tend to be heavier than those who do). When you head for bed, however, try to sleep on your back. Sleeping with your face on a pillow causes pulling and wrinkling that our collagen-challenged, aging skin is less likely to bounce back from in the A.M.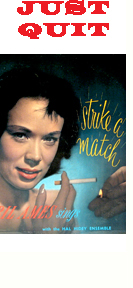 Just in case the risk of cancer isn't reason enough to stop smoking, how about the fact that it's absolutely terrible for your skin? Cigarette smoke contains a veritable potpourri of chemicals that reduce blood flow to the entire body (bad, bad, bad), they use up the Vitamin C that produces skin-plumping collagen (yipes!), and they cause the liver to go into overdrive to purge the pollutants from your system which produces an ultra-attractive yellow pallor. And if you're puffing away you're probably squinting to keep the smoke from your eyes, and squinting is a wrinkle's best friend. So listen, if you don't want to end up looking like one of those dried apple dolls that they sell along the Pennsylvania Turnpike, JUST QUIT.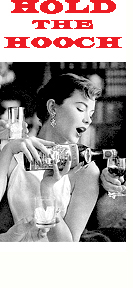 A little tipple now and then- perhaps an unpretentious, antioxidant-rich glass of cabernet sauvignon?- is fine and dandy. But drinking too much alcohol, especially the hard stuff, causes major dehydration, and that's a wrinkle no-no. Ease up on the hooch and your skin, as well as your liver, will thank you.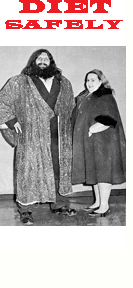 We all know that maintaining a healthy weight is important, especially when it comes to the far-too-prevalent side effects of obesity- adult onset diabetes and heart disease being the most dangerous. But when it comes to weight loss or gain, moving slowly toward your ultimate goal is best for your body and for your skin. Yo-yo dieting and rapid fluctuation in weight cause sagging skin that nothing, short of plastic surgery, is going to tighten up again. Forewarned is forearmed.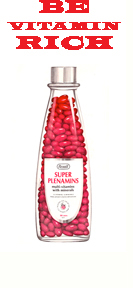 Eating a wonderfully leafy, whole-grain, iron-rich, fruit and fiber-laced diet would preempt the need to take vitamin supplements, but many of us, (I'm looking sheepish even as I type), aren't quite as nutritionally watchful as we could be. Taking a multiple vitamin every day can make up for a bit of nutritional backsliding, but your skin is particularly fond of Vitamins C, A, and E. To insure that you're getting enough of this trio check out these lists of foods rich in each: Vitamin C, Vitamin A, and Vitamin E. That said, be sure to consult your physician before taking any supplements or upping your intake through diet. Some vitamins can reduce the effectiveness or harmfully interact with medications.